Mapping production, making connections
Hi there, 
Welcome to our weekly set of observations from the research and work we are doing to support the response to COVID-19. 
As usual we have five fine facts to share with you -   
💥 We are thrilled to announce that two more COVIDaction investments have been awarded via the Local Productions and Solutions call and you can read all about them here.
📊 Data Challenge awardees Open Institute and Data Ready are going to be presenting their work at the Forum on Internet Freedom in Africa.  
💪 The very first Data Challenge awardee was the Surgo Foundation. Meet the woman leading the work - Sema Sgaier.
📚 Fancy a weekend read? Here's a couple of articles that we found interesting - 'Strategic innovation funding in times of radical uncertainty' is a smart reflection of our times, "Portfolio approaches to tackle complex challenges. Notes on an emerging practice" is obviously close to our hearts and and the Center for Global Development's report "Mental Health and the COVID-19 Pandemic" which illustrates the need to support Resilient Health Systems. 
🌍 Local Production and Local Solutions is developing its ability to understand and network producers. To aid this it is also developing a clear map of production - there's a sneak peek below. Stay tuned as this initiative grows into a key resource!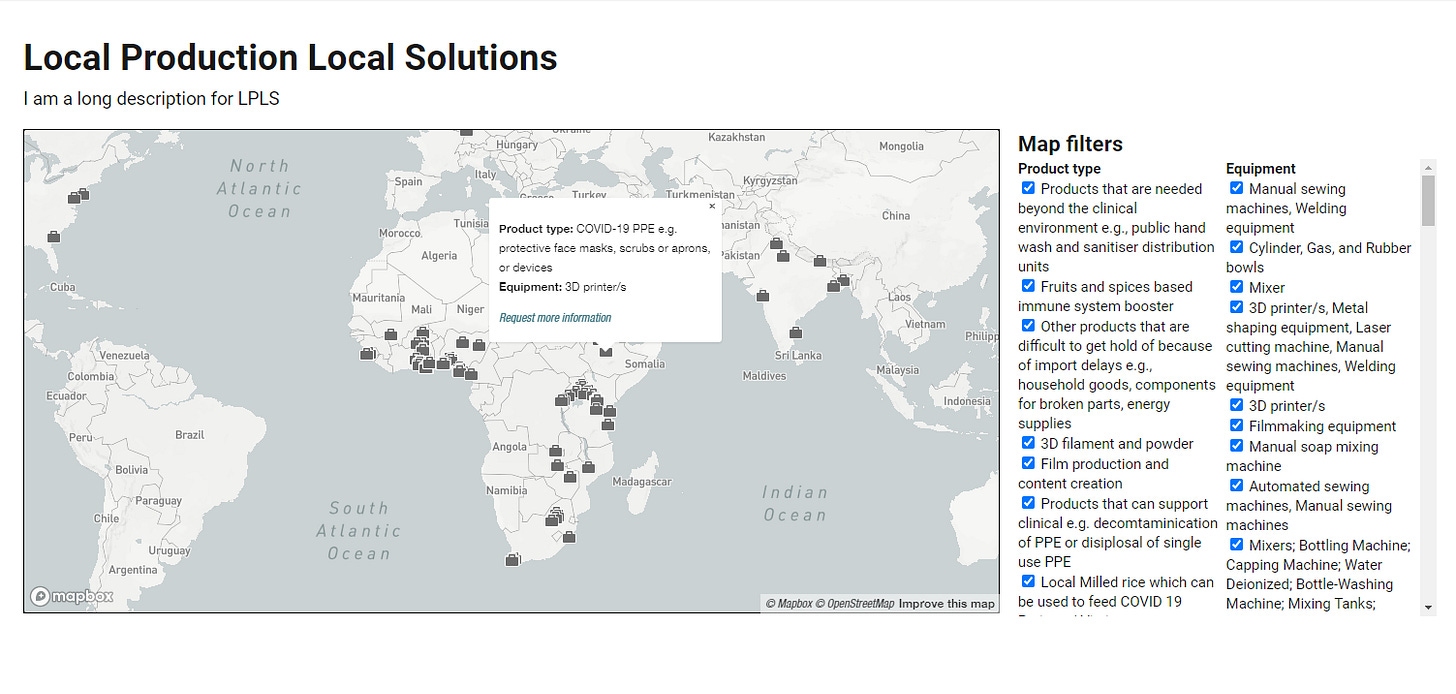 We're changing tempo! As you know, COVIDaction likes to be iterative and spot emerging patterns. This includes our weekly update and so we're going to send you news every other week from here on and see if this is a better approach for everyone. 
Don't forget you can share our newsletter with anyone you think would like to hear from us. You can also follow our Medium publication and Twitter to be sure you get the latest news as soon as it is published. 
Have a great weekend, 
The COVIDaction Team.
COVIDaction is building a technology and innovation pipeline for the COVID-19 pandemic. The programme is funded by UK Aid.